Blog miniseries along common themes are the best! Through the end of 2023 we are going to dive into geometallurgy from a geochemistry-adjacent perspective (keeping it simple, keeping it relevant, and hoping every geoscientist learns one small thing per blog).
The most important thing to remember as we start out is that despite what you see coming back from your lab assays… we don't mine elements, we mine minerals!
There was a lot of internal debate about where to start and where to go, but we settled on kicking off the series with talking about penalties and credits at smelters with an example from copper concentrate before moving through posts on deportment, texture, liberation, and extraction.
Let's talk penalties (and credits)
When submitting copper (Cu) concentrate to a smelter, many elements have an upper limit or no-sale limit above which the smelter will not accept the concentrate (note that limits are subject to change). When we talk about elements that would prevent a sale these are "penalty" elements. On the flip side, there are also elements that are considered "credits" that will add value to a mine if they can be successfully recovered.
Keep in mind, though, that just because your assay says that you have credit elements, this does not necessarily mean that they will (or even can) be recovered during mining. Likewise, just because you may have some penalty elements this may not be a dealbreaker.
While more senior geoscientists tend to have knowledge of these things, geometallurgists bridge the gap between geoscience and metallurgy. This discipline works on these complex issues so that mines will not easily be killed by a little bismuth or arsenic!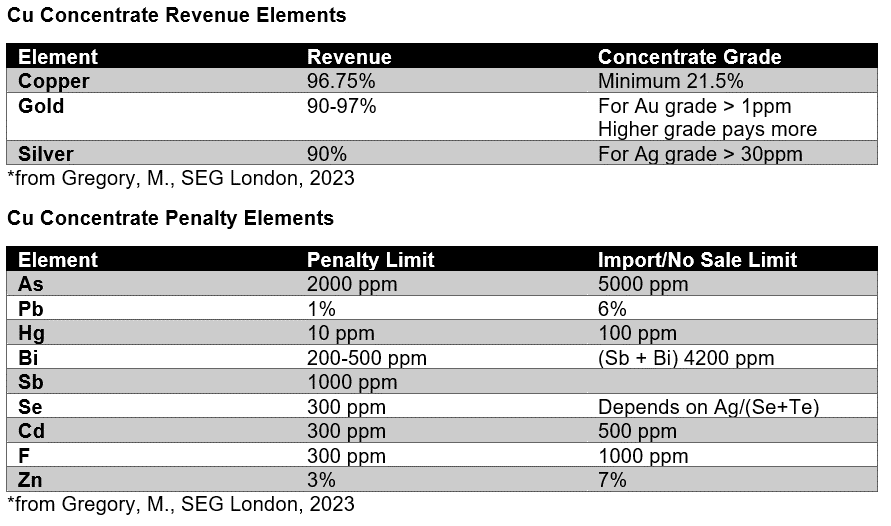 Minerals as penalties??
To round out this post – there is always a huge focus on penalty elements, but it is likewise important to consider penalty mineralogy. Again, depending on your mine, mill, etc., if there are minerals like montmorillonite, nontronite, saponite, talc, illite, etc. there could be huge implications for your program.
Minerals, such as those listed above, can have a significant impact on all aspects of mineral processing:
Development: ground support and infrastructure
Mining: blasting and caving behavior
Comminution: crushing, grinding, liberation, and throughput
Recovery: flotation, gravity and magnetic separation, and leaching
Waste and tailings: dewatering, acid neutralization, and reclamation
The soapbox…
To all geoscientists out there, it is for this reason that collecting detailed geochemical and mineralogical data from even the earliest stages of exploration is important. Furthermore, it is not sufficient to simply collect the data, but to collect it properly and to do more than just look at the copper or gold numbers… have someone qualified look at your data to extract the most information possible from exploration's largest asset: drillcore.
Next blog… deportment!